Community Relations
Community Relations at Evansville Ford - Serving Evansville, Madison, Janesville, Oregon, Verona, and all neighboring Wisconsin communities.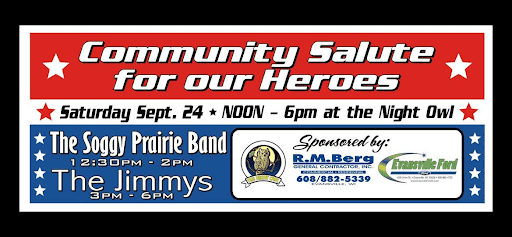 Save the date for September 24, 2022. Evansville Ford is participating in Community Salute for our Heroes, which is a major event to honor and celebrate our invaluable veterans and first responders. From noon to 6 PM at the Night Owl, please come and enjoy two terrific live bands, all the brats and hot dogs you can eat, fire trucks and bounce houses for the kids, and an American flag the size of a battalion. All proceeds from refreshments, bounce houses, and the 50/50 raffle will be donated to charity. Come out and dance with your friends and neighbors while honoring our most valuable heroes! The Evansville Ford team is honored to give back to our community. We are proud to support local civic and scholastic organizations through philanthropic contribution. Contributing to local causes and nonprofits allows our Ford dealership to impact the lives of our neighbors. Engaging with schools, organizations, and charities in our area benefits everyone involved. Evansville Ford employees are proud to be a part of an organization that gives back to the community. Customers can feel good about supporting a local business with a storied philanthropic mission. The Evansville Ford team strives to create meaningful community engagement through a variety of paths. This is an abbreviated list of a few local benefactors of Evansville Ford community involvement:
Evansville High Schools
Evansville Consolidated Schools
Creekside Community Center
UW Athletics
Evansville Historical Commission
Evansville Fourth of July
Fundraising efforts for various groups in Albany, Brooklyn, Evansville, and Stoughton
Our local Ford dealer is also proud to host regular community engagement events. Evansville Ford is a participant in the monthly summer Creekside Cruise gatherings. Gas up your hot rod and head over to Creekside Place on the first Thursday of each month from May through September. Enjoy our seasonal family-friendly party with food trucks, games, live music, and a 50/50 raffle. Best of all, there's no registration fee to flaunt your ride. All cars are welcome on all nights, and we can't wait to see you there next summer! For more information on Evansville Ford corporate sponsorships and upcoming community events, please reach out to our team.